Bulova introduces two unique new products … PLATINUM CERTIFICATES: Timepiece Gift Certificates and THE TRIBUTE COLLECTION: Diamond Recognition Watches
Platinum Certificates by Bulova
It doesn't get any easier than this. Bulova's new Platinum Certificates are timepiece gift certificates so totally turnkey that after you order and distribute them, your job is done.
They're available in 6 award levels, ranging from $50 to $300. That means there are options to suit almost any budget. Just order exactly what you need when you need it. There are no minimum purchase requirements. Once the Platinum Certificates arrive, simply distribute them. Each Certificate is a mini product brochure from which the recipient can select a timepiece at a particular award level. Platinum Certificate choices include brand names and popular collections: Bulova, Accutron, Caravelle, Marine Star and Millennium ( For more details: read bulova precisionist chronograph review). All watches and clocks are respected national brands that your recipients know and trust. And each Certificate comes with its own reply card. Recipients choose their gifts, fill in the card and mail it directly to Bulova. Then Bulova ships them their awards directly. You don't have to warehouse product or do program fulfillment. And the recipients get to pick their gifts when they want, where they want, from a good selection of watches and clocks.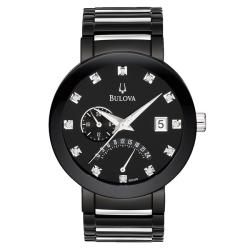 Basically, you can relax after each Certificate is awarded. They are great for programs and wonderful to have on hand for instant recognition awards. And it's not too early to start thinking about the December holidays. Bulova's Platinum Certificates make lovely and memorable gifts for your staff and for your business associates.
The Tribute Collection by Bulova
Tribute watches are a special way to recognize your employees and associates, whether it's saying "Job well done" or "Happy 5th Anniversary."
Lovely diamonds sparkle from your choice of a white pearlized or black dial. What's most unique about Tribute watches is that they can get more brilliant with time. These elegant men's and women's watches are available at any one of four diamond recognition levels to start–either one, two, four, or twelve diamonds. You can "upgrade" to any of the next diamond levels later on as the recipient attains higher achievements. For example, you can reward an employee with a single-diamond watch for an exceptional achievement this year. Next year, if that same employee attains another major goal, you can upgrade his or her watch to either two diamonds, four diamonds, or twelve diamonds. What a wonderful way to recognize and motivate your employees! And you can personalize all Tribute watches with a memorable sentiment to make them even more special. Not only is a Tribute watch a unique recognition of all their hard work, but it is something they'll be proud to wear for years to come. And a constant reminder that they are valued employees.
Contact
Bulova Corporation Special Markets
Phone: (800) 423-3553
Fax: (718) 204-3593
E-Mail: [email protected]
Web site: www.bulova.com